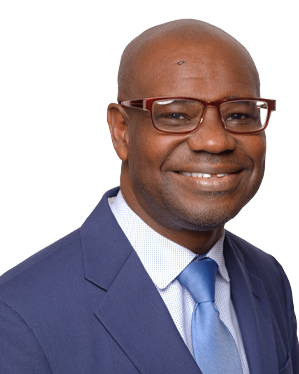 Ansord E. Hewitt
Director General, ex officio Member
Mr. Ansord E. Hewitt, Regulatory Specialist, Economist and Attorney-at-Law, is the new Director General of the Office of Utilities Regulation (OUR). Mr. Hewitt was appointed by the Governor General, His Excellency the Most Honourable Sir Patrick Allen, to serve for three years with effect from 2017 January 1.
As Director General, Mr. Hewitt will be an ex officio member of the Office and he succeeds Mr. Albert Gordon, who demitted office on 2016 November 1.
Mr. Hewitt, who was formerly the OUR's Director of Regulation, Policy, Monitoring and Enforcement (RPME), has over twenty five years' experience working and providing leadership at various levels in quasi-judicial organizations. His educational background covers law, management and economics with extensive specialised training in, among other areas: regulation, competition analysis, strategic planning, leadership, international negotiation and corporate planning.
Mr. Hewitt has charted a career in competition and regulatory analysis, joining the OUR in February 2000, where he has served in several positions including: Regulatory Economist, Manager of Regulatory Affairs, Secretary to the Office (the first such) and most recently, the Director of RPME. Prior to joining the OUR, he worked at the Jamaica Bauxite Institute and the Fair Trading Commission as an Economist. He also lectured at the post graduate level on Regulation and Regulatory Reform in the Department of Government, University of the West Indies (UWI), Mona for over ten years and served as a tutor in the UWI's Masters In Telecommunications Regulation and Policy Programme.
The holder of a Masters degree in Regulation from the London School of Economics, obtained after being awarded a Chevening Scholarship in 1997, Mr. Hewitt also holds undergraduate honours degrees – Bachelor of Science (B.Sc.) in Economics & Management (UWI), and Bachelor of Law (LL.B) from the University of London. He also holds a Certificate in Legal Education from the Norman Manley Law School.
Occasionally, Mr. Hewitt has been a faculty member of the Public Utilities Research Centre, the University of Florida's premier two-week certificate course in regulation. An accomplished writer, the new OUR Director General has presented and published papers locally and internationally.